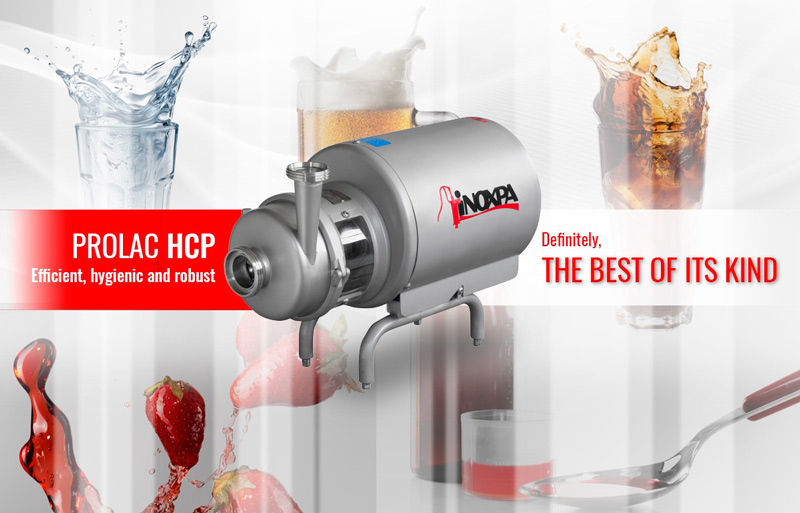 Et hygiejnisk, kompakt og højeffektivt design
PROLAC HCP er en serie af sammenbyggede centrifugalpumper med et hygiejnisk, kompakt og højeffektivt design. De er særligt velegnede til at fungere som produktpumpe inden for fødevare- og drikkevareindustrien såvel som inden for lægemiddel- og kosmetikindustrien.
Serien består af 12 modeller, der i markeringsområdet er stillet op på afbalanceret vis, således at det er nemt at vælge en pumpe, der ligger tæt på den maksimale virkningsgrad (BEP) i forhold til driftspunktet.
Takket være brugen af avancerede teknikker for væskesimulering samt et udførligt prøveprogram, er der opnået høje ydelsesniveauer og også et meget lavt støjniveau. Det giver sig udtryk i en skånsom pumpning af produktet og en minimal overførelse af temperatur til væsken.
De NPSH-værdier, der kræves af Prolac HCP-pumperne er særligt lave og generelt bedre end de nærmeste konkurrenters. Det betyder både, at risikoen for kavitation er meget lille, og gør brugen af inducere unødvendig.
De er ligeledes robuste pumper inden for deres kategori, da hele serien har et nominelt tryk på 16 bar.

Motorer ifølge standard, overholdelse af bestemmelser og forenklede mekaniske tætninger
Motoren overholder IEC-standarderne og er beskyttet med en inddækning af rustfrit stål, og de hygiejnisk designede ben kan indstilles i højden. Hele serien er også tilgængelig for det amerikanske marked og kan monteres med motorer i henhold til NEMA-standarder.
Alle elastomerer i standardudgave opfylder de mest krævende certificeringer i fødevareindustrien, da de er certificeret iht. CE-1935/2004, FDA og 3-A. I HCP-WFI-udgaven overholder de desuden USP klasse VI.
Den mekaniske tætning er fuldstændig hygiejnisk og design godkendt iht. EHEDG og 3-A. Den har et enkelt design, der består af et begræset antal dele, for at lette vedligeholdelsen, men er samtidig robust og pålidelig og kan modstå et maksimalt tryk på 16 bar. Selv om serien er omfattende og indeholder 12 modeller, findes de mekaniske tætninger kun i to diametre (25 mm og 35 mm).
Montering af dobbelttætningen er meget enkel og økonomisk, da den består af to standard enkelttætninger. Det forenkler vedligeholdelsen, fordi det begrænser antallet af nødvendige dele, hvilket naturligvis reducerer omkostningerne meget sammenlignet med en almindelig mekanisk dobbelttætning.


Garanteret effektiv CIP/SIP-rengøring. Betydningen af den indvendige overfladefinish
Pumpen er designet iht. EHEDG-kriterier og godkendt til mærkning med 3-A symbol, hvilket betyder, at den kan rengøres ved hjælp af CIP/SIP-anlæg uden behov for demontering.
Den indvendige overfladefinish (ruhed) er en meget vigtig faktor i forbedringen af rengøringsprocessen. Standard overfladefinish i Prolac HCP-pumperne er RA <0,8 μm. Det er den internationalt anerkendte overfladefinish (både af EHEDG og af 3-A) til pumper i fødevareindustrien, fordi jo bedre den indvendige overfladefinish er, jo mere reduceres risikoen for forurening af produktet, og det letter rengøringen. Det er alt sammen med til at reducere slutbrugerens omkostninger takket være en forenkling af rengøringsprocessen.
Denne finish anvendes i standardudgaven af Prolac HCP og udgør derfor ingen prisforhøjelse i forhold til basisprisen.

Udgaver af Prolac HCP
HCP-N: sammenbygget centrifugalpumpe til montering med NEMA-motorer.
HCP-WFI: kombination af de mest almindelige optioner til lægemiddelindustrien.
HCP-SP: selvspædende udgave. Ved blot at udskifte huset af en standard Prolac HCP, kan vi gøre den til en selvansugende pumpe.
HCP-ATEX: hele serien er tilgængelig med ATEX-certificering og således egnet til brug i eksplosive omgivelser.
Kontakt os for yderligere oplysninger
https://www.inoxpa.dk/company/contact